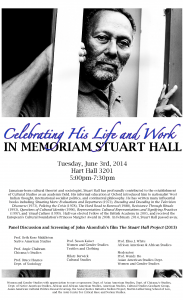 The event is a celebration of Hall's life and work.  There will be a panel, reception and a showing of the Stuart Hall Project.
Tuesday June 3, Hart Hall 3201, 5-7:30pm
Stuart McPhail Hall, FBA (3 February 1932 – 10 February 2014) was a Jamaican-born cultural theorist and sociologist who lived and worked in the United Kingdom from 1951. Hall, along with Richard Hoggart and Raymond Williams, was one of the founding figures of the school of thought that is now known as British Cultural Studies or The Birmingham School of Cultural Studies.