Related Upcoming Events
FALL QUARTER 2015
"Writing the Body: Qi Energy for Every Creative Act"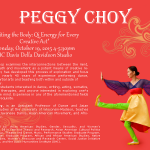 This workshop examines the interconnections between the mind, writing, breath, and movement as a potent means of creative retooling.
Monday October 19, 2015, 4:00-5:30pm, UC Davis Della Davidson Studio
Peggy Choy is an Assistant Professor of Dance and Asian American Studies at the University of Wisconsin-Madison, teaches courses on Javanese Dance, Asian American Movement, and Afro-Asian Improv.
SPRING QUARTER 2014
In Memoriam of Stuart Hall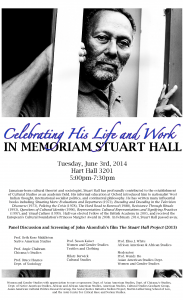 The event is a celebration of Hall's life and work.  There will be a panel, reception and a showing of the Stuart Hall Project.
Tuesday June 3, Hart Hall 3201, 5-7:30pm
Stuart McPhail Hall, FBA (3 February 1932 – 10 February 2014) was a Jamaican-born cultural theorist and sociologist who lived and worked in the United Kingdom from 1951. Hall, along with Richard Hoggart and Raymond Williams, was one of the founding figures of the school of thought that is now known as British Cultural Studies or The Birmingham School of Cultural Studies.
On behalf of Scholars Promoting Education Awareness and Knowledge, in cooperation with Yik' Al Kuyum and the community, we invite everyone to our annual AB 540 and undocumented awareness week!
This year's theme Undocu…What? aims at educating those who are unaware of the AB 540 and undocumented issue by showcasing events throughout the week. We encourage everyone to attend! Click on the flyer for event details.
Wednesdays 12:15 p.m. to 2:00 p.m.
Risling Room – 3201 Hart Hall
The Native American Studies Department hosts a quarterly Brown Bag Lecture Series featuring research presentations by UC Davis faculty and graduate students, as well as invited Bay Area scholars whose work addresses issues central to Native American and Indigenous Studies.
Brown Bag Lecture Series Spring Quarter 2014Wednesdays 12:15 p.m. to 2:00 p.m.Risling Room – 3201 Hart HallThe Native American Studies Department hosts a quarterly Brown Bag Lecture Series featuring research presentations by UC Davis faculty and graduate students, as well as invited Bay Area scholars whose work addresses issues central to Native American and Indigenous Studies.
4th Annual Designated Emphasis in Feminist Theory and Research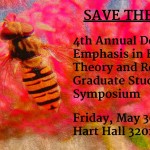 Graduate Student Symposium
Friday, May 30th
Hart Hall 3201
More details coming soon…
Arab Studies Conference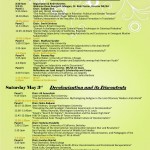 ARC, Ballroom A
Friday May 2nd Subjectivity and its Discontents
Saturday May 3rd Decolonization and its Discontents
See flyer for more details
"Using the Tools of Critical Race Theory and Racial Microaggressions to Examine Everyday Racism."
UC Davis School of Education is proud to host Dr. Daniel Solorzano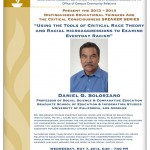 May 7th from 5:30-7pm Memorial Union, MUII (2nd Floor)
He is our Distinguished Educational Thinker for our Critical Consciousness Speaker Series.
This will be a POWERFUL talk–Don't miss it!
UC Davis Women of Color Conference – Call for Abstracts Now Open!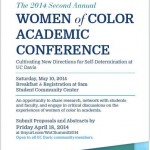 Women of Color Academic Conference: Cultivating New Directions for Self-Determination
The 2014 Second Annual UC Davis Women of Color Conference is an opportunity to share your research, network with students and faculty, and engage in critical discussions on the experiences of women of color in academia. This event is open to all UC Davis community members. Anyone who wants the chance to present their research is welcome!
How Do I Participate?
There are many ways to get involved! You can present your own research, organize a group discussion or panel, or volunteer to moderate a session. Research at all stages and across all disciplines is highly encouraged.
Click the link below to fill out an application and indicate your interest:
[ http://tinyurl.com/WoCSummit2014 ]
The deadline to submit applications is Friday April 25th at 5pm
Have questions or need more information?
Contact the Women's Resources and Research Center
wrrc@ucdavis.edu
530-752-3372
First Floor, North Hall
---
FALL QUARTER 2014
2014 NWSA Annual Conference: Feminist Transgressions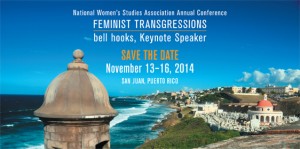 November 13-16, 2014 • San Juan, Puerto Rico
NWSA's 2014 conference theme, Feminist Transgressions, endeavors to take up the histories, geographies, affective dimensions, and political stakes of various feminist insubordinations in the spaces they occupy: intellectual and institutional, local and global, public and intimate, by choice and under duress. Mobilizing the multivalent concept of transgression helps reframe interrogations and impositions into those locations where we labor, love, defy, resist, protest, play, create, and/or celebrate.
Keynote Address: bell hooks
Dr. bell hooks is a noted cultural critic, commentator, and feminist, is Distinguished Professor in Residence in Appalachian Studies at Berea College.
---
WINTER QUARTER 2014
TANA Winter Open House & Exhibition Opening for Con y Sin Papeles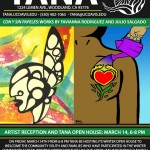 Friday, March 14th 6-8 pm
Join Taller Arte del Nuevo Amanecer (TANA) for its upcoming Winter Open House and exhibition opening: Con y Sin Papeles. TANA is a community-based art center managed by the Chicana/o Studies Department at UC Davis.
Featuring works by  Favianna Rodriguez and Julio Salgado
Facebook event page
The Women's Resources and Research Center at UC Davis is proud to present VAGINA: OurStories.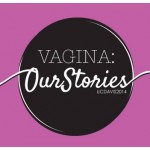 VAGINA: OurStories is a benefit performance to raise awareness/consciousness to end gendered violence via an alternative means to education—writing & theatre. The show consists of monologues that demonstrates many concerns and struggles of marginalized genders, as well as their resilience and survival.
Tickets will be sold on a sliding scale of $7-$10 and all proceeds will go to Justice Now! (http://www.jnow.org/) Justice Now! is a non-profit organization that works to end forced sterilization of women in prison.
Come to the show for an exciting, dynamic, and moving performance! The show will be at the Veteran's Memorial Center at 203 East 14th St. at the following times:
Saturday, March 1:
2-4PM
6-8PM
Sunday, March 2:
5-7PM
Tickets can be bought at the Women's Resources and Research Center in North Hall or the LGBTQIA Resource Center in the Student Community Center NOW! Buy them soon, or they'll all run out, and then you'll be really sad, and that's no fun! Facebook Vagina: OurStories Event page Check out the promo video here
Chicana Codex of Changing Consciousness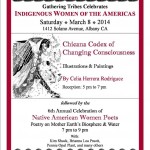 Saturday March 8, 2014
1412 Solano Avenue, Albany CA
Illustrations and Paintings by Celia Herrera Rodriguez
Reception 5-7PM
Followed by the 6th annual celebration of Native American Women Poets
7-9PM
Continuing Dialogue: Gender, Sexuality, and Social Justice in the Classroom
Friday, January 31st, 1-3 p.m. in Meeting Room A, Student Community Center
For more details contact amhinzo@ucdavis.edu of the DE in Feminist Theory and Research.
Unsettling Approaches to Performance Studies Fishbowl
Monday February 3rd, 2014, 7:33-9:37 p.m., in Della Davidson Studio at the University Club,
Please join us for a participatory performance praxis session
Book Launch:  Associate Professor Maxine Craig, Sorry I Don't Dance: Why Men Refuse to Move
Wednesday, February 5, 2014, at 5pm in Garrison Room, Memorial Union. Presented by: Women and Gender Studies
Sorry I Don't Dance takes readers to dance floors from 1900 to the present to see the rearticulation of race, gender, sexuality, and class.
The Betty Irene Moore School of Nursing Lecture Series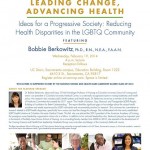 Wednesday, February 19, 2014, 4 p.m.
Lecture with reception to follow
UC Davis Sacramento Campus, Education Building, Room 1222
4361 X St., Sacramento, CA 95817
The School of Nursing hosts the Betty Irene Moore School of Nursing at UC Davis Lecture Series: Leading Change, Advancing Health featuring Dean and Mary O'Neil Mundinger Professor of Nursing at Columbia University School of Nursing Bobbie Berkowitz. She presents "Ideas for a Progressive Society: Reducing Health Disparities in the LGBTQ Community." Register online at sonrsvp.com. Space is limited.
---
FALL QUARTER 2013
Thursday, November 14, 2013
15% and Growing: The Policy Priorities and Civic Engagement of Asian Americans & Pacific Islanders in California