Advisory Board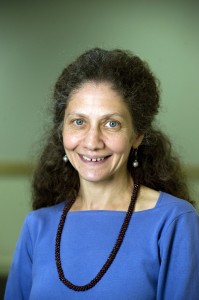 Maxine Craig
Associate Professor, Women and Gender Studies
mbcraig@ucdavis.edu
Maxine Craig is Associate Professor in the Women and Gender Studies program and Chair of the Designated Emphasis in Feminist Theory & Research at the University of California, Davis. She received her doctorate in Sociology from the University of California, Berkeley. She is the author of Sorry I Don't Dance: Why Men Refuse to Move (Oxford University Press 2013). Sorry I Don't Dance takes readers to dance floors from 1900 to the present to see the recreation of race, gender, sexuality, and class as purportedly timeless and natural categories. Her book, Ain't I a Beauty Queen? Black Women, Beauty, and the Politics of Race. (Oxford University Press 2002) was the winner of the Best Book of 2002 award on the Political History of Ethnic and Racial Minorities in the U.S by the Section on Race, Ethnicity, and Politics of the American Political Science Association. Professor Craig has published articles on topics related to embodification of race and gender. Her most recent project is an ethnographic study of public school students who use public transit in their journeys to and from school.
Professor Craig is past chair of the American Sociological Association Section on Race, Gender and Class. She is a deputy editor of Gender & Society, a leading journal in the fields of sociology and gender studies. Her teaching areas include gender, race and culture; the body; and masculinities.
---

Yvette Flores , Co-Director
Professor, Chicana Chicano Studies
ygfloresortiz@ucdavis.edu
Yvette Flores was born in Colon, Panama, and raised in San Jose, Costa Rica, Dr. Flores migrated to the United States in 1965. She was educated in the public schools of South Central Los Angeles and the San Fernando Valley. Her interests in psychology emerged from the challenges the process of migration posed to her family. Dr. Flores obtained a B.A degree in Psychology from the University of California, Santa Barbara in 1970. She pursued a Masters Degree in Community- Clinical Psychology at C.S.U. Long Beach and completed a doctoral degree in Clinical Psychology at U.C. Berkeley in 1982.
For the past two decades, Dr. Flores has worked as a research psychologist, university professor, and licensed psychologist. She has done postdoctoral work in health psychology, in particular substance abuse treatment outcome research and intimate partner violence. Her current research examines intimate partner violence among Mexicans on both sides of the border. Her publications reflect her life's work of bridging clinical psychology and Chicano/Latino studies, as she foregrounds gender, ethnicity and sexualities in her clinical, teaching and research practices. Dr. Flores is the mother of two young adults and a passionate traveler.
---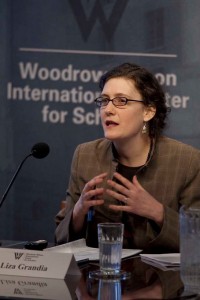 Liza Grandia
Associate Professor, Native American Studies
emgrandia@ucdavis.edu
Liza Grandia, cultural anthropologist, is an Associate Professor in the Departmentof Native American Studies at the University of California-Davis.  Since 1993, she has collaborated with many indigenous and environmental NGOs in Guatemala and Belize.  She is the author of two ethnographies based on seven years of fieldwork: Enclosed: Conservation, Cattle and Commerce among Q'eqchi' Maya Lowlanders (2012) and Tz'aptzooq'eb': El Despojo Recurrente al Pueblo Q'eqchi' (2009).  She is founder and coordinator of the Q'eqchi' Scholars Network and the Petén Scholars Network, which seek to connect researchers with social and environmental justice struggles.  As the incoming director of the Indigenous Research Center of the Americas (IRCA), she hopes to foster more community-engaged and community-driven research across the hemisphere.  Her own research and activist interests include:  agrarian and biodiversity conservation issues in northern Guatemala and southern Belize; corporate and development threats to indigenous peoples; cultural perceptions of toxics in everyday life; pesticides and hazardous waste in Third World contexts; GMOs; controlling processes; the commons.
Homepage:  http://nas.ucdavis.edu/faculty/liza-grandia
---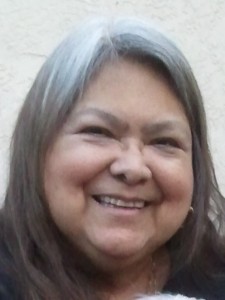 Ines Hernandez-Avila , Co-Director
Professor, Native American Studies
ighernandez@ucdavis.edu
Professor Hernandez-Avila (Nez Perce, enrolled on the Colville Reservation, Washington, and Tejana) is one of the six founders of the Native American and Indigenous Studies Association (NAISA). In 2008 she won an American Council of Learned Societies fellowship, sponsored by the Center for Contemplative Mind in Society. This fellowship allowed her to focus on contemplative practice in her teaching as it relates to ancient Nahuatl and other indigenous philosophical traditions, as well contemporary indigenous expressions of personal and collective autonomy in the service of social justice. In 2009 she received the Academic Senate Distinguished Teaching Award at the Graduate and Professional level. She is a member of the National Caucus of the Wordcraft Circle of Native Writers and Storytellers, and she is active with the Native Traditions in the Americas Group of the American Academy of Religion.
---
Wendy Ho
Associate Professor, Asian American Studies/Women and Gender Studies
waho@ucdavis.edu
Wendy Ho, Ph.D, Senior Lecturer Academic Senate with a joint appointment in the Department of Asian American Studies and the Women and Gender Studies Program.  She is affiliated faculty member of the Cultural Studies Graduate Program, Dept. of Native American Studies, Dept. of African and African American Studies, the UCD Honors Program, WMS DE graduate group,  and a number of MRGs in APIA public policy, food politics and social justice.  As Chair of the Dept. of Asian American Studies, she lead the drive toward Departmental status and undergraduate curriculum innovation and increased coordination with campus sites, state, local and cultural community contacts.  Another of her proudest accomplishments has been developing one of the first Asian American Studies programs and ethnic studies requirements in the Midwest at the University of Wisconsin, Madison, and co-founding the Pacific Asian and Women's Alliance, a social and public policy group between the community and University of Wisconsin.  She is currently on the Advisory Board of the Mellon Grant Social Justice Initiative and was on the Advisory Boards of the Davis Humanities Institute and the University of California Humanities Research Institute (UCHRI), the Dean's HArCS Steering Committee and  the Executive Committee of the College of Letters and Science at UC Davis.  She is affiliated faculty on the current UCD Interdisciplinary Frontiers in the Humanities and Arts (IFHA) grant.  She is currently working on a number of institutional cross-disciplinary undergraduate and graduate research and curriculum development initiatives and transnational collaborations to radically transform educational and pedagogical structures  and practices.  She is the director of the Asian American Cultural Politics research group that has forefronted annual speaker series in Critical Race Studies, Asian American Dance and Performance and APIA Sexualities. Her current research focuses on women and gender studies, Asian American studies, feminist theory, Asian American literature and women, literature by women of color, masculinities as well as medical humanities and cultural and food/environmental/sustainability studies.  Her first book focuses on the history and literature of Chinese American writers in the United States, especially on the changing formations of gender, family and community through space and time.  She teaches courses on Intro to Women and Gender Studies, Feminist Theorizing, Asian American Women, Asian American Masculinities, Asian American History and a new seminars on Public Health, Race, Gender, Sexuality and Colonial/Empire Formations, Critical Pet Studies and Feminist Theory.
---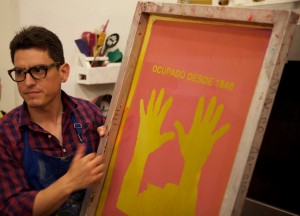 Carlos Jackson
Associate Professor, Chicana / Chicano Studies
cfjackson@ucdavis.edu
Carlos Jackson, a visual artist and writer, was born and raised in Los Angeles, California. He attended the University of California, Davis where he received his Bachelor of Science in Community and Regional Development and an M.F.A. in Painting, and was awarded the Robert Arneson Award for excellence in the M.F.A. program. In 2002 he was awarded a full fellowship to attend the prestigious Skowhegan School of Painting and Sculpture in central Maine. For the 2003-2004 year he held the David Shainberg Endowed Fellowship at the Fine Arts Work Center in Provincetown, MA. From 2003-2007 he had taught in the Chicana/o Studies Program and Art Department at UC Davis and in the Fine Arts Department at Saint Michaels College in Vermont.
He is currently an Associate Professor and Chair of Chicana/o Studies at UC Davis and is Director of Taller Arte del Nuevo Amanecer, a community art center in Woodland, Ca.
In the past five years he had numerous group and solo exhibitions throughout the United States. In 2009 he published a book on the history of the Chicana/o Art Movement with the University of Arizona Press titled Chicana and Chicano Art: ProtestArte. In 2011 the University of Illinois, Springfield published a catalog on his artwork titled Mi América/My America: Carlos Jackson and in 2012 he was a featured artist and essayist in the exhibition catalog Estampas de la Raza published by the University of Texas Press.
---
Susan Kaiser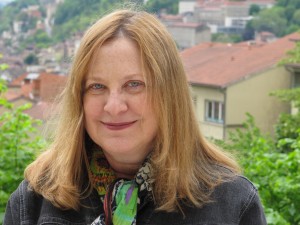 Professor, Women and Gender Studies
sbkaiser@ucdavis.edu
Susan B. Kaiser is Interim Dean of the Division of Humanities, Arts and Cultural Studies in the College of Arts and Science and Professor of Textiles and Clothing, and Professor of Gender, Sexuality and Women's Studies.  Her research interests bridge the fields of feminist cultural studies and fashion studies, with a particular interest in the intersectional experiences of place/space with gender, "race," ethnicity, class, and sexuality, especially as these experiences interface with issues of social justice (e.g., labor, sustainability, globalization) through the production, distribution, and consumption of clothing and fashion. She is the author of Social Psychology of Clothing (Fairchild), Fashion and Cultural Studies (Berg), and nearly 100 articles and book chapters in the areas of fashion studies, cultural studies, sociology, and other fields. She is a past President and Fellow of the International Textile and Apparel Association.
---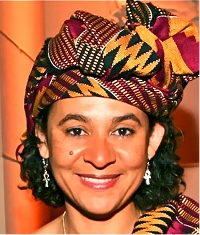 Amina Mama, Co-Director
Professor, Women and Gender Studies
amama@ucdavis.edu
Nigerian/British feminist researcher , scholar and activist has lived , taught​, researched​ and worked with women's movements and universitiesacross Africa, the Caribbean, Britain, and the Netherlands before moving to the USA in 2009. She spent 10 years as University of Cape Town's first Chair in Gender Studies (1999-2009) leading the establishment of the African Gender Institute as a continental resource dedicated to developing transformative scholarship by synergising feminist theory and activism. Founding editor of the ​first ​ continental journal of gender studies, Feminist Africa, her own publications include Beyond the Masks: Race,Gender and Subjectivity (Routledge 1995), Women's Studies and Studies of Women in Africa (CODESRIA 1996), Engendering African Social Sciences (co-edited, CODESRIA 1997), plus numerous book chapters, journal articles and media engagements.
Committed to strengthening ​scholarship​ and ​feminism in African contexts, her research interests include culture and subjectivity, politics and policy, women's movements and militarism. She and Yaba Badoe co-produced the 50-minute documentary film The Witches of Gambaga 2010.
---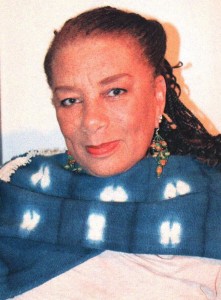 Halifu Osumare
Associate Professor, African American / African Studies
hosumare@ucdavis.edu
Halifu Osumare is Professor and Director of African American & African Studies at University of California, Davis.  She has been involved with dance and black popular culture internationally for over thirty years as a dancer, choreographer, teacher, administrator and scholar.  Her focus in these areas has always been as an activist for social and cultural justice, particularly in the dance field.  As an academic she was a 2008 Fulbright Scholar, teaching at the University of Ghana, Legon's Department of Dance Studies, conducting research on the effects of hip-hop culture in the capital city of Accra.  Her second book The Hiplife in Ghana: West African Indigenization of Hip-Hop (Palgrave Macmillan, 2012) is the result.  Her first book, The Africanist Aesthetic in Global Hip-Hop: Power Moves (2007) established her as one of the foremost authorities on hip-hop internationally.  Having taught and researched in Malawi, Kenya, Ghana, and Nigeria, her work has spanned traditional African performance and ritual to contemporary African American dance and performance.
As an artist, dance educator, and cultural activist she was the Founder of Everybody's Creative Arts Center/CitiCentre Dance Theatre in Oakland California (1978-2005).  Today, this center for African and African-based dance has morphed into the Malonga Casquelourd Center for the Arts.  She is currently the Co-Director of the Institute for Dunham Technique Certification in Oakland, which continues the great dancer/anthropologist Katherine Dunham's legacy.  Like Miss Dunham, Dr. Osumare situates the arts as an integral part of the humanities and the continuing struggle for social justice globally.
---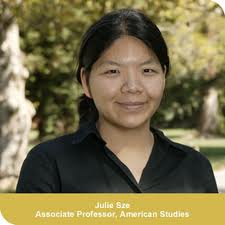 Julie Sze
Associate Professor, American Studies Program
jsze@ucdavis.edu
Julie Sze is an Associate Professor and the Director of American Studies at UC Davis. She is also the founding director of the Environmental Justice Project for UC Davis  John Muir Institute for the Environment, and in that capacity is the Faculty Advisor for 25 Stories from the Central Valley.
Sze's research investigates environmental justice and environmental inequality; culture and environment; race, gender and power; and urban/community health and activism and has been funded by the Ford Foundation, the American Studies Association and the UC Humanities Research Institute. Sze's book, Noxious New York: The Racial Politics of Urban Health and Environmental Justice, won the 2008 John Hope Franklin Publication Prize, awarded annually to the best published book in American Studies.
---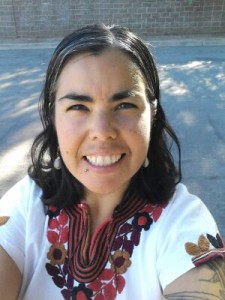 Susy Zepeda
Assistant Professor, Chicana & Chicano Studies
sjzepeda@ucdavis.edu
Susy Zepeda, born and raised in Los Angeles, California to Mexican immigrant parents, is a queer Xicana Indígena. She is an interdisciplinary and transnational feminist scholar. Susy became a part of the UC Davis campus community as part of the Mellon funded Hart Hall Social Justice Initiative as a visiting assistant professor. She received her Ph.D. from UC Santa Cruz in Sociology with Designated Emphasis in Feminist Studies and Latin American & Latino Studies.  Her research and teaching interests include: critical race and ethnic studies, critical feminist collaborative methodologies, queer of color studies, and Chicana/Latina decolonial feminisms.  Currently, Susy is writing her first book manuscript, which is a historical and contemporary tracing of queer Xicana and Latina cultural producers that examines layers and tensions of race, class, gender, sexuality, spirituality, land, nation, and generational silence. In it, she argues that the roots of Chicana and Latina feminisms are forms of diasporic and ancestral knowledge. Susy is part of a writing collaborative, the Santa Cruz Feminist of Color Collective, who collectively published the article "Building on "the Edge of Each Other's Battles": A Feminist of Color Multidimensional Lens" in Hypatia: A Journal of Feminist Philosophy. Susy works closely with the México-based filmmaker collective Mujeres y Cultura Subterránea who inspire her scholarship on transnational visual culture.